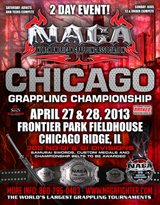 NAGA Chicago grappling tournament went great this weekend! Teens and adults competed on Saturday and kids on Sunday.
All weekend long, the loud speaker blasted "and in first place from The Carlson Gracie Team…!"
Great job and so proud of all competitors, whether they won or learned and improved. A big thanks to all team members that did not compete but helped fellow teammates to prepare for the competition.
Results and photos can be found on http://nagafighter.com/index.php?module=eventdetailpage/302#